Late night legend David Letterman returned to the Ed Sullivan Theater in New York on Monday, telling successor Stephen Colbert that he misses the daily grind, musical guests and the chair itself.
Before ending his appearance on "The Late Show with Stephen Colbert," Letterman asked the current host for a favor that was granted without hesitation — to sit, for just a moment, behind the desk that he retired from in 2015.
"We do this because my son doesn't believe I had a show," Letterman quipped before they snapped a selfie, replicating one they took in 2014 when it was announced Colbert would be taking over.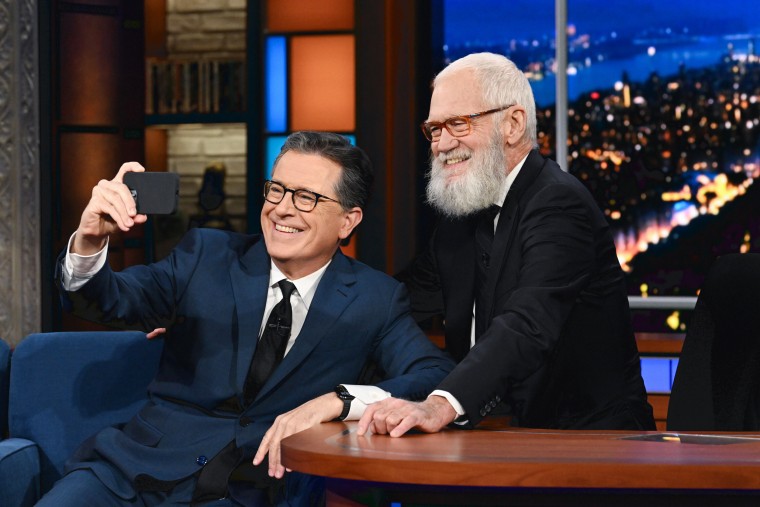 Letterman, sporting what's become his trademark white beard, walked on to the stage to thunderous applause that he comically accepted.
"This is the most enthusiastic audience I have been near since the night I announced that I was quitting," he said on the CBS broadcast. "Wow. That was great, thank you very much."
It's been eight years since his retirement from "The Late Show" and Letterman said he misses the work — and the chance to make up for a bad show with another try just one day later.
"I miss everything, mostly it's fun," he said. "Very few things in life provide one the opportunity … if you muck one up, 24 hours later, you get to try again and that's a pretty good device. "
Letterman also said he missed hearing a band play every day at work and welcoming a new musical guest for each show.
"When you don't have that in your life every night, you really really miss it. So it was great to hear you guys again," he said gesturing to The Late Show Band.
Letterman showed he still has the comic touch, firing off one liners without much effort.
With his son, Harry, now in college, the 76-year-old Letterman said he and his wife are bored and they've joked that their only options are to have another child or get divorced: "The paperwork, honestly, is about the same either way so we're kind of stuck."
Letterman said he was horrified seeing a man at the drug store being handed a long rod, which the pharmacist told him was for a bathroom issue: "Yeah, that's where we keep the key to the men's room. It's just gross, right?
Colbert appeared to gesture toward snacks or supples at his desk when he asked Letterman if he approved of the set up, and the retired host shot back: "What, all of this weed?"
Letterman took a heartfelt moment to say hello to fellow funnyman Dana Carvey, whose son Dex Carvey, 32, died of an accidental drug overdose last week.
Letterman didn't mention the tragic passing, but just shouted out Carvey and said he always enjoyed having him on his show.
"He and I have the heart surgery in common, and whenever he would be on the show, I always felt great empathy and sympathy back and forth," Letterman said.
Letterman has become an icon of late night television, hosting "Late Night" on NBC for over a decade, then "The Late Show" on CBS for over 20 years. He's won multiple Emmys, the Mark Twain Prize for American Humor and is a Kennedy Center honoree.
He currently hosts the long-form interview show "My Next Guest Needs No Introduction" on Netflix.
While back at the Ed Sullivan Theater, the former host lauded Colbert for the work he's done running CBS' late night show.
"It's not easy but you make it look very easy, so congratulations to you and your entire staff," Letterman said.