It looks like Gwen Stefani's eldest son might just follow in his mom's musical footsteps.
Kingston Rossdale, 17, recently gave his first live performance at his stepfather Blake Shelton's Oklahoma bar.
It's no surprise he'd show off his musical talent, since both of the teenager's parents — Stefani and Gavin Rossdale — have been staples in the music industry for decades. Kingston may have also picked up a few pointers from his stepfather, who married Stefani in 2021.
Shelton has also formed sweet bonds with Stefani's two other sons from her first marriage: Zuma, 14, and Apollo, 9. In May, the whole family gathered to support Shelton when he got his star on the Hollywood Walk of Fame.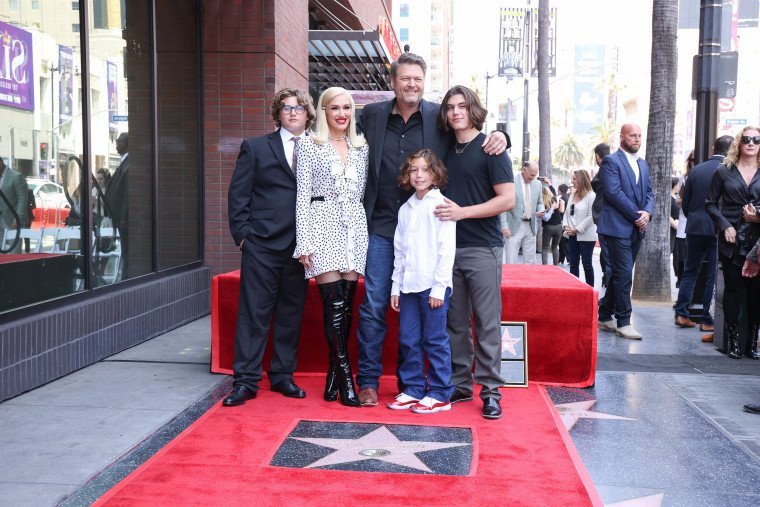 In 2021, Shelton spoke openly about his role as a stepfather during an interview with K-FROG's "The Ride with Kimo & Heather."
"There's definitely nothing easy about it. I don't know if it's as hard or harder or not as hard as being an actual biological parent, you know?" he said.
Adding that he can't imagine his life "without these kids now," the singer revealed that he has "a blast" with Stefani's sons.
Read on for more fun facts about Stefani's kids and their bonds with their stepfather.
Kingston, 17
Stefani and Rossdale, who were married between 2002 and 2016, welcomed their first child in 2006.
When Kingston turned 14 in 2020, Stefani shared a video of Shelton and her eldest son sharing a sweet moment.
In 2020, Rossdale told People that Kingston had been bitten by the music bug.
"He's just a joy because when he's playing guitar, all he wants to do is wear my clothes. He comes out looking better than me, generally," he said.
The proud dad showered his son with praise the following year on his 15th birthday, saying he "could not be more proud of" Kingston.
In 2022, Stefani shared a tribute to her son on his 16th birthday.
"I prayed and I waited my whole life to be a mommy — i'm so blessed that God chose me to be yours," she wrote.
In 2022, Shelton spoke candidly about his role as a stepfather during an interview with People and revealed how his wife's three sons had changed him for the better.
"They've taught me something about myself that I never knew: I'm more than just a country singer or a goofy guy. I'm someone they actually lean on, and that's not a responsibility that I ever had and not something that I ever considered even being into," he said.
Stefani posted a tribute this past May to her eldest son, writing, "happy birthday to my firstborn. couldn't be more proud of u!! no matter how old u are, you'll still be my baby boy."
In June, Rossdale opened up about his post-divorce parenting approach with Stefani and said they have "opposing views" about raising their kids.
"I think you can go one of two ways — you can either do everything together and really co-parent, and see how that goes — or you can just parent," he said during an interview on the "Not So Hollywood" podcast. "And I think we just parent."
The musician added that his and Stefani's differing approaches to parenting offer their kids "incredible perspective."
During the same interview, he gave an update on Kingston's musical aspirations.
"He's incredible as a songwriter and singer, musician," he said. "He's really way better than I was ever at 17. So who knows what the future holds for him, but he's recording stuff and super legit. And that's what he wants to do."
Zuma, 14
Stefani and Rossdale welcomed their second child, a son named Zuma Rossdale, in 2008.
Much like Kingston, Zuma has a close bond with his stepfather. In 2017, the brothers even made a cameo in Shelton's music video for his single "I'll Name the Dogs."
The family's middle child celebrated his 12th birthday in 2020 and his proud mom shared a loving tribute for him to mark the occasion.
"Happy birthday to my ZUMA i can't believe u r 12 years old today!! we love u sooooooo much!!" she captioned the post. Stefani included side-by-side photos of Zuma and a throwback pic of herself, and the resemblance was uncanny.
Rossdale called his son the "greatest guy i know" in his own birthday tribute.
The previous month, Shelton spoke to TODAY about his relationship with Stefani's sons and said he feels compelled to be a good role model for them.
"It's one thing for me to be with the kids all the time and be their buddy, but you do have to consider after a while that they start to listen to things that you say and there's a lot of responsibility that comes with that," he said.
Zuma and Kingston had fun at a Shelton concert in March 2020, and their mom shared several photos from the exciting night out.
Along with his brothers, Zuma did a Bible reading at Stefani and Shelton's 2021 wedding. The trio also looked pretty sharp in matching suits.
Apollo, 9
In 2014, Stefani and Rossdale welcomed their youngest son, Apollo Rossdale.
As the youngest of her three sons, Apollo holds a special place in his mom's heart, and she told TODAY's Hoda Kotb in 2019 that it was difficult sending him to school.
"That part was a little bit hard, taking him to kindergarten," she said. "I never thought I would actually be in preschool again because I had him so late and it was such a miracle surprise that I had him in the first place, so just trying to savor every single moment."
Shelton helped Apollo celebrate his sixth birthday in 2020. Stefani marked the occasion by sharing the following message for her son on social media: "6 years ago GOD blessed us w this little angel boy."
Following her 2021 wedding to Shelton, Stefani shared an endearing behind-the-scenes video of her and Shelton showering her youngest son with kisses.
In honor of Apollo's eight birthday in 2022, Stefani shared a throwback video of her son showing off his musical chops as a little kid while singing "Old McDonald."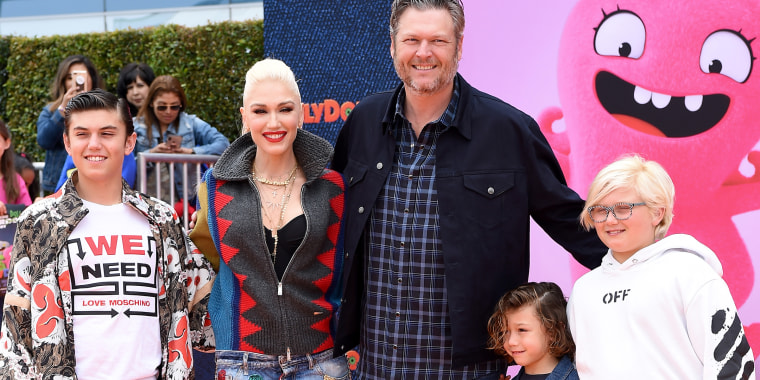 The same year, Shelton announced that he was leaving "The Voice" to spend more time with his family and focus on his role as a stepfather.
"You don't know what your regrets are going to be until you look back one day," he told People. "I feel like my regrets would be, if I stayed on this path, that I am missing out on some more important things in life — and for now, that's our kids."
The singer added that becoming a stepfather shifted the way he thinks about life.
"Having kids, it truly does make you go, 'Oh whoa. Wait a minute.' This isn't about me anymore and never will be again,'" he said. "If you don't say that to yourself, I think you're only hurting yourself because you're going to miss out."