Whether you're a football fan or not, you've probably heard the names Jason and Travis Kelce a lot lately.
The dynamic duo made headlines early in 2023 when their NFL teams went head-to-head in February's Super Bowl, making them the first brothers in NFL history to face off in the league's championship game. Spoiler: Travis Kelce's Kansas City Chiefs beat Jason Kelce's Philadelphia Eagles 38-35.
Since that game, their stars have only risen — especially given Travis Kelce's relationship with a certain Taylor Swift. Jason Kelce and his family with wife Kylie Kelce was also the subject of a documentary earlier this year. They released a Christmas song together and both appeared on "Saturday Night Live," though Travis Kelce was the host.
The two brothers faced off again in a Nov. 20, 2023 game, only the ninth time in NFL history that a Super Bowl rematch has taken place the following game season.
Jason Kelce proved to be victorious during the latest game, with the Eagles winning 21-17. This was the first time older brother Jason Kelce's team beat Travis Kelce's Chiefs.
Following the game, the two brothers hugged and laughed over the outcome. They will surely speak about this during their upcoming "New Heights" podcast.
Jason and Travis Kelce have come a long from from their upbringing in Cleveland Heights, Ohio, and are now veritable NFL stars with Super Bowl rings — Jason Kelce won a Super Bowl with the Philadelphia Eagles in 2017; Travis Kelce in 2019 and 2023.
But what, exactly, is fueling the hype? Here's everything you need to know about the first brothers of football.
Facts about Jason Kelce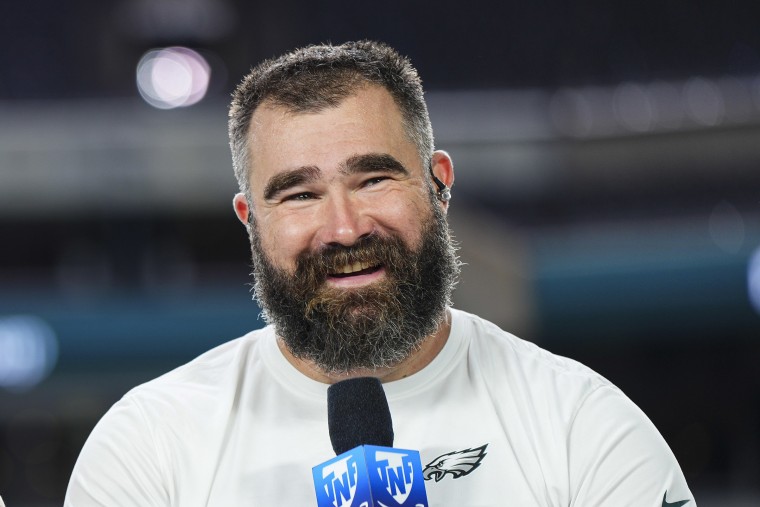 Age: 36
Year he was drafted to the NFL: 2011
NFL team he currently plays for: Philadelphia Eagles
Football position he plays: Center
Relationship Status: Married to Kylie McDevitt Kelce
Children: Father to three daughters (Wyatt, 4, Elliotte, 2, and Bennett, 8 months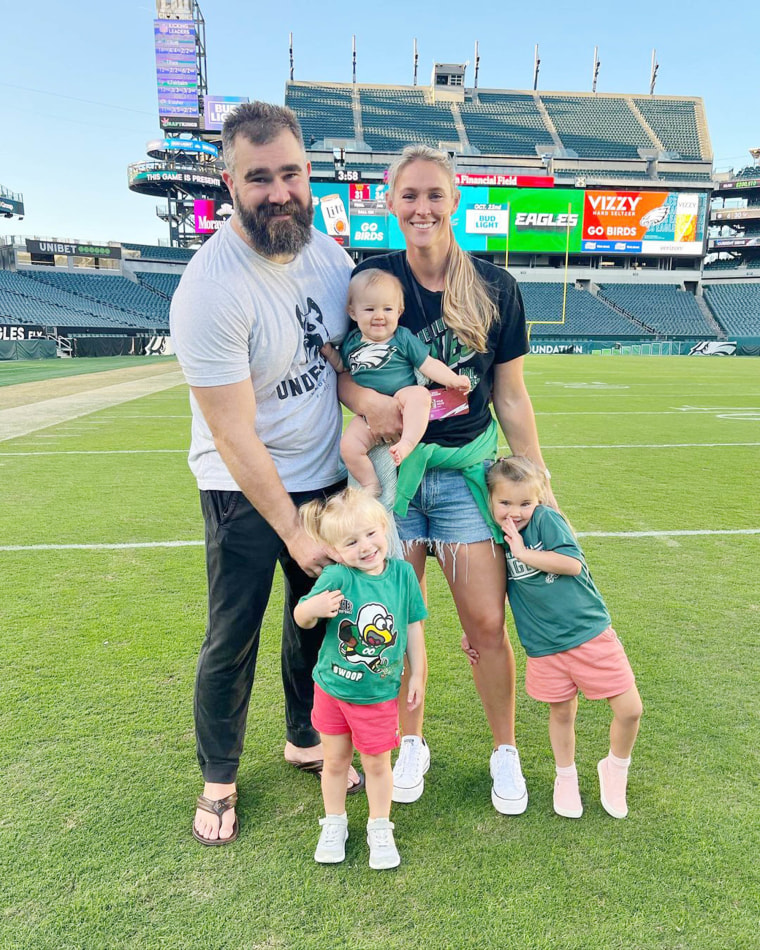 Facts about Travis Kelce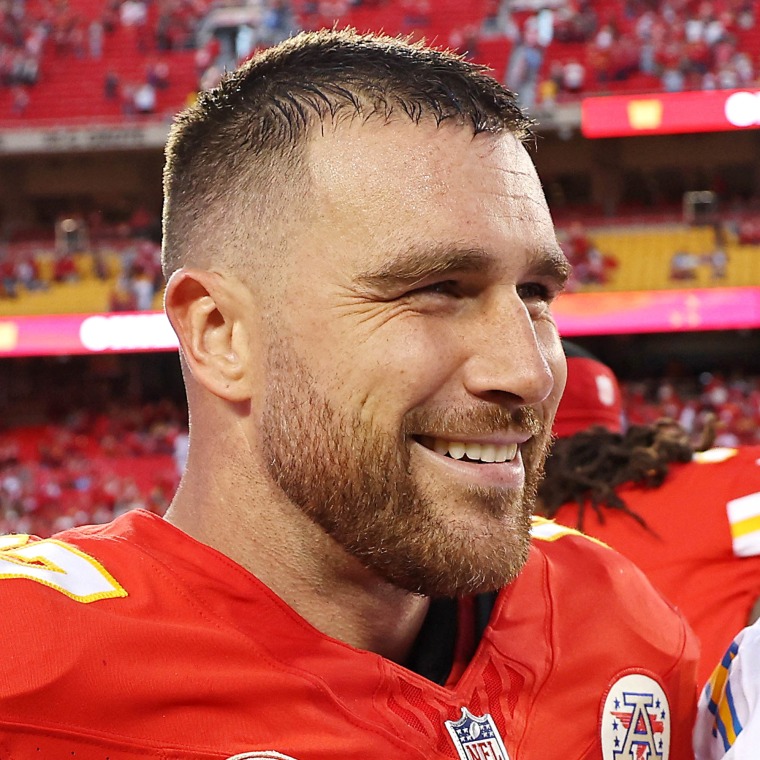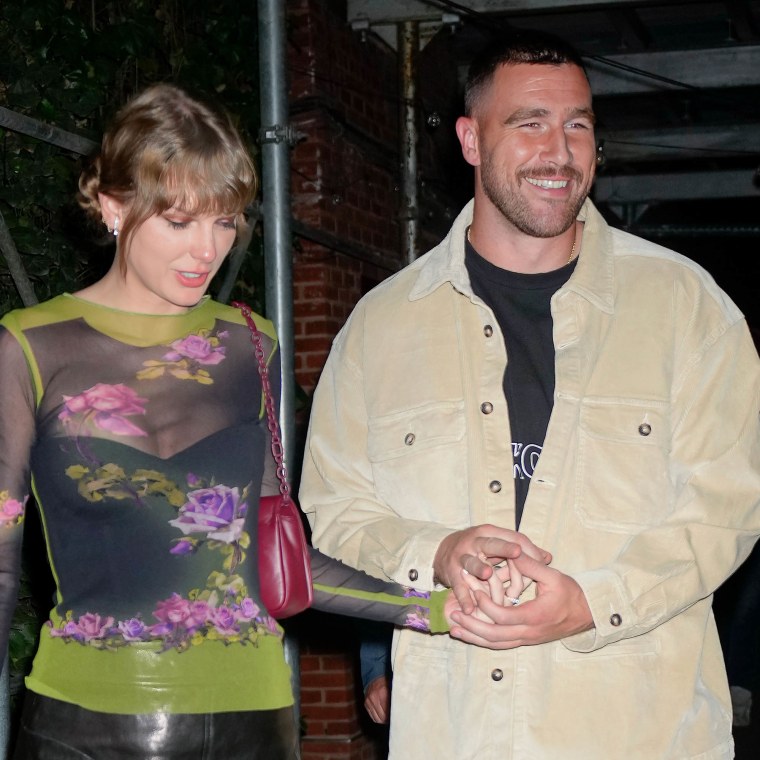 Their parents are divorced, but supportive
Donna and Ed Kelce, Travis and Jason Kelce's parents, have opened up multiple times about their marriage.
In the "Kelce" documentary, focused on Jason Kelce and his family, Ed Kelce said he and Donna Kelce stayed together for their sons.
"If we had split as we probably both would have preferred, that would have been a nightmare with the logistics, getting kids where they had to be and providing all the support," Ed Kelce said in "Kelce".
Donna Kelce said, on the "New Heights" podcast, that the two remain amicable "I don't hate him. We're friends to this day. We get along great," she said.
Back in Cincinnati, they played for the same team — and lived together
Before they were Eagles and Chiefs, they were Bearcats. While attending the University of Cincinnati, Jason and Travis Kelce briefly overlapped and played football together.
They also roomed together. Jason Kelce appeared on the Mythical Kitchen YouTube show in April 2023 and recounted how they ended up living with two queen beds in a shared dorm room.
When Travis Kelce tested positive for marijuana and got suspended from the team, Jason Kelce had him move in with him to "keep an eye" on his whereabouts. The room was "not pristine," he said.
"In the same time period, he had the audacity to kind of go back the other way again," Jason Kelce said said. "I was so mad I punched the wall, and when I punched the wall my arm went through one piece of drywall, through the insulation, and then through the other side of the wall. So, there was just a big hole from the living room to the bathroom for like the rest of the quarter."
They host a podcast together
During the NFL season, the Kelce brothers co-host a podcast called "New Heights with Jason and Travis Kelce," where they discuss everything from red carpet fashion snafus to their personal lives (and, of course, football).
In a 2022 interview with Forbes, Travis Kelce said he appreciates the time he gets to spend with his brother while filming their podcast.
"It's been good to just have that set amount of time to be able to just sit down and chat," he said. "It's like we're just kicking it at dinner back when we were in high school and college together."
Travis Kelce chose his jersey number to honor his brother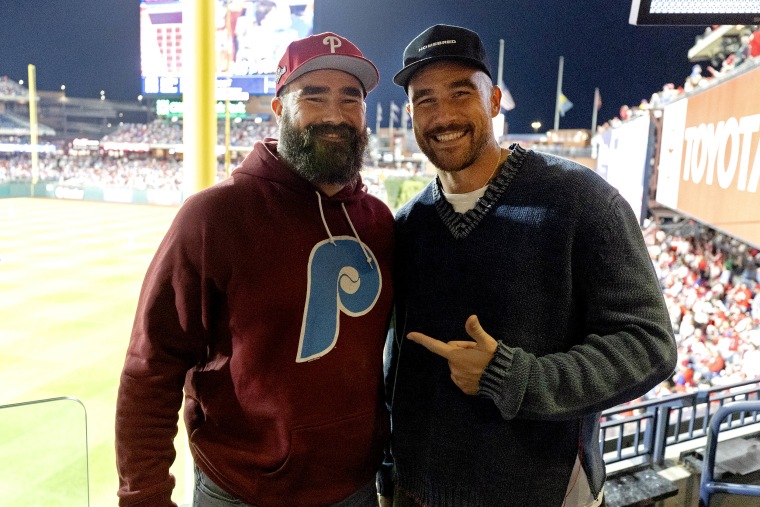 Before the 2023 Super Bowl, Travis Kelce spoke about the significance of his football jersey number: 87.
"If there is a Kelce legacy, two brothers making it to the NFL, it all started in 1987, because this big guy was born in 1987," he told NFL Films.
Travis Kelce said his brother "paved the way" for him in the same interview.
"I can't think him enough for doing that. I just hope he stays as happy as he is right now and that that never changes for him and that he only wins one Super Bowl and that I win the rest," he said.
The brothers faced off in the 2023 Super Bowl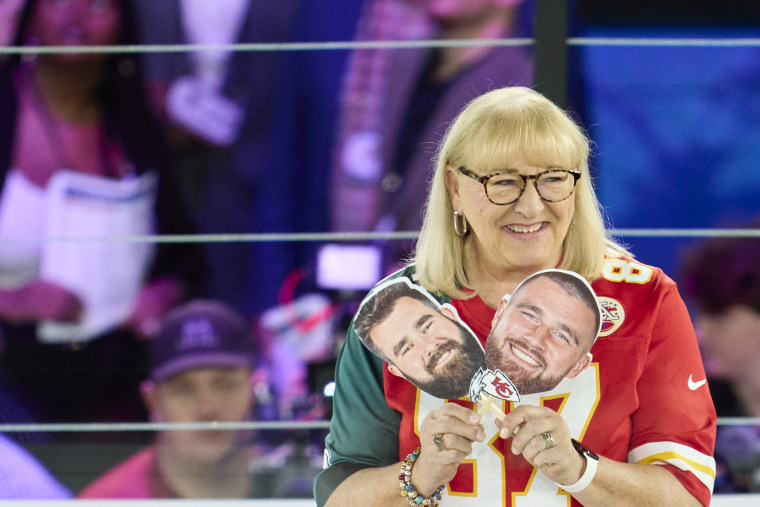 The Kelce brothers and their teams went head to head at the 2023 Super Bowl.
Donna Kelce, the mother of Jason and Travis Kelce, spoke to TODAY beforehand to discuss the dynamic of having two sons on opposite sides of the big game.
She joked she was rooting for the "offense," since both of her sons play offense.
"I think that Jason would say I am going to root for the baby of the family, which is Travis. And I keep trying to tell him, 'No, you've given me grandchildren,' so we'll leave it at that," she then teased.
Jason Kelce has said he's 'proud' of his brother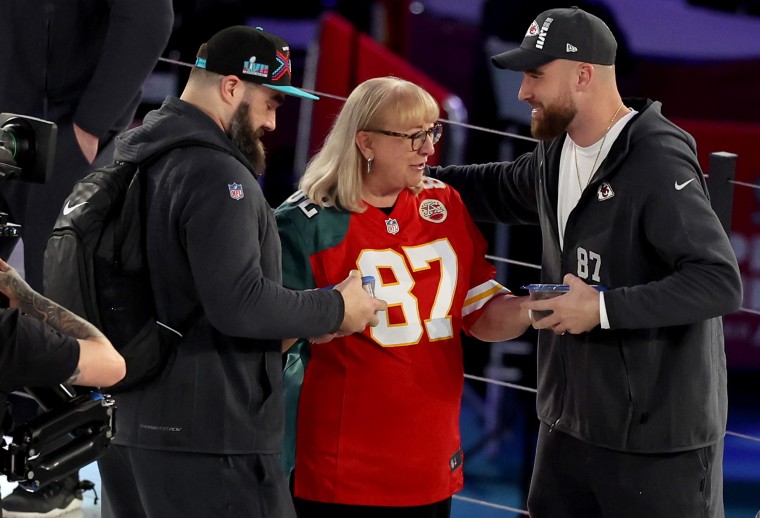 During an interview with NFL films before the 2023 Super Bowl, Jason Kelce said he's proud of his younger brother's accomplishments.
"Seeing him turn into the player and the man that he is has been just the ultimate feeling of being proud," he added.
Jason Kelce says his brother lives life 'with so much joy'
Later on in 2023, and amid his headline-making romance with Taylor Swift, Travis Kelce was featured in the Wall Street Journal. His older brother Jason Kelce offered the following description of the tight end.
"He just lives his life with so much joy," he said. "He's always kind of surrounding himself with people who are funny, who have a zest for life; it's one of the things that defines him."
Jason Kelce has commented on his brother's new 'level of stardom'
Ever since Travis Kelce and Taylor Swift were first romantically linked, the younger Kelce brother has been in the spotlight. His older brother recently commented on the matter in an interview with NBC Sports.
"This is another level of stardom that typically football players don't deal with," he said.
Jason Kelce then explained that he's cautiously supportive of his brother's relationship.
"On one hand, I'm happy for my brother that he seems to be in a relationship that he's excited about, that he is genuine about," he said. "But there's another end of it where it's like, 'Man, this is a lot.' There's paparazzi talking about him fueling his car before the game today and I'm like, 'Is that really necessary information to share?'"
The brothers agreed, speaking on their podcast, that the NFL was "overdoing it" in its coverage of Taylor Swift, especially when it came to her appearances at Travis Kelce's games.
"They're overdoing it," Jason Kelce said, which his brother replied: "They're overdoing it a little bit, especially with my situation."
The league also mentioned Swift in its social media accounts for a time. In a statement to TODAY.com, the NFL said in part, "We frequently change our bios and profile imagery based on what's happening in and around our games, as well as culturally. The Taylor Swift and Travis Kelce news has been a pop cultural moment we've leaned into in real time, as it's an intersection of sport and entertainment, and we've seen an incredible amount of positivity around the sport."